Fans
Our cooling towers are fitted with FRP Axial Flow fans with Aerodynamic efficiency and significant saving in higher operating cost.
Fan Blades
Fan Blades are made up of fibre glass reinforced epoxy resins. These blades are hollow in construction and have been designed with most efficient aero foil section.
Optimum aero foil section thickness has been selected to achieve maximum lift and minimum drag coefficient. Twist is so designed that blade section are maintained at most efficient angle of attack having the highest lift drag ratio. Light and strong blades increase the life of mechanical drive arrangement.
Hub Assembly
Fan hub assembly is simply designed for easy installation and minimum maintenance. It is dynamically balanced and made of stainless steel plates, aluminum clamp blocks, cast iron bush and all hardware in stainless steel for resistance against corrosion.
Balancing of Fans
Fan Hub assemblies are dynamically balanced on Dynamic Balancing Machines and total Fan Blade assemblies are balanced on specially designed rig for vibration free continuous operation.
Fan Drive
Fans are directly driven by electric motors in small models and coupled through gearbox in larger models subject to the tip speed of the fan.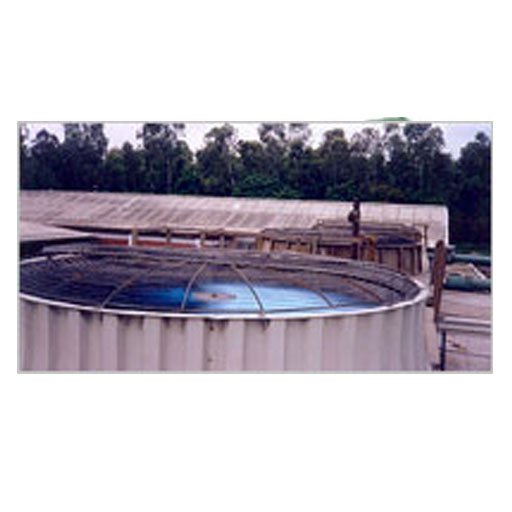 Fan Cylinder
Our cooling towers are fitted with elevated fan cylinders in HDG Steel or FRP material which enhance the air movement, completely eliminating the chances of re-circulation of exhaust air and thereby increasing cooling tower efficiency.
Hot Water Distribution System
The Hot Water Distribution System is of open Gravity type and is constructed from boiling water proof marine plywood with poly-propylene target nozzles.
Louvers and Casing
Corrugated asbestos cement board casing is applied vertically joints are lapped and sealed for water tightness. Corners are covered with FRP corner rolls. Corrugated asbestos louvers are located on wide centers on the sloping louvered walls. They are supported by tower columns and louver supports. ( FRP casing and louvers can be provide if desired.)
Internal Fills
Our cooling towers are fitted with "Foster Wheelers" stack type fill arrangement, comprising of splash bars fixed with transverse stringers making the fills into removable trays. This arrangement makes an excess to wet surface area and eliminates any chances of fill collapse. The splash bars and trays are made from As-Cu treated pinewood and are rectangular in cross-section.
Drift Eliminators
Specially designed eliminators are made in replaceable modules. Each module can be taken out easily, cleaned and put back into position in no time. Eliminates drift loss to less than 0.1%.
Cold water Basin & Other Works
The cold water RCC Basin is to be constructed by the purchaser, in accordance with the supplied drawings. The sting equipment, pumps, cabling,external piping are not included.